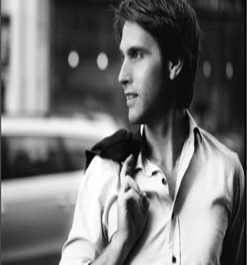 Andrew Carrington
Stadt: Berlin
Preisspanne: VB €
Antwortquote :

100%
Antwortzeit: 1-2 Stunden
Sänger & Saxophonist | Professionelles Entertainment | Swing & Jazz bis Tanzmusik | Alles ist dabei!
Andrew Carrington ist internationaler Musiker und Saxophonist, bekannt geworden als Lead-Sänger der australischen Gruppe THE TEN TENORS.
Mit zahlreichen Auftritten (Wetten Dass..?, Carmen Nebel, Fernsehgarten, Zirkus Krone uvm.) hat er bereits ein Millionenpublikum erreicht.
Lassen Sie sich und Ihre Gäste verzaubern!
• Mit einem unerschöpflichen Repertoire aus deutschen und internationalen Songs nach Ihren Wünschen.
• Von Jazz, Easy Listening, über lockere Tanzmusik der 80er und 90er, bis hin zu topmodernen Pop-Hits, ist alles dabei!
• Insbesondere Swing Hits von Frank Sinatra und Michael Bublé runden das Programm ab.
• Buchbar als Duo. z.B Sängerin oder Instrumentalist.
Referenzen (Auszug):
The Ten Tenors
Dinner & Show
The Rock Christmas Dinner Show
Lets Vegas Dinner Show
Voices of Vegas Dinner Show
Courtyard Marriot
Swissôtel
Panam Lounge - Berlin
HDI
HBB Handelsvernband Berlin Brandenburg
Deutsche Bahn
Löwenpalais
Garage du Pont
Vierseithof - Luckenwalde
Villa Blumenfisch
Schloß Ziethen
Schloß Diedersdorf
Schloß Wulkow
Schloß und Gut Liebenberg
Schloß Kartzow
Schloß Belvedere
Seehotel Zeuthe
Mit seiner einzigartigen Stimme und unverwechselbar australischem Charme wird Andrew Carrington Ihre Veranstaltung
zu einem nie vergessenen Ereignis machen.
Buchen Sie Andrew Carrington exclusiv jetzt auch für Ihr ganz privates oder öffentliches Event!
Es erwartet Sie ein einzigartiges Musikerlebnis für Sie und Ihre Gäste. Garantiert!
Als Untermalungsprogramm oder als Highlight-Auftritt für Ihre Veranstaltung, alles ist möglich! Wir beraten Sie gern!
Buchen Sie Andrew für:
Hochzeitsfeier, Sektempfänge, Dinner-Musik, Geburtstagsfeier, Firmenevents, Firmenfeier.
Trauungen, Galaveranstaltungen, Jubiläum.
Sehen Sie sich unser Video an
"Der Künstler hat kein Video auf seinem Profil hochgeladen. "
Unser Programm
Careless Whisper

(George Michael)

You Raise Me Up

(Josh Groban)

Fly me to the moon

(Frank Sinatra)

My Way

(Frank Sinatra)

Come Fly With Me

(Frank Sinatra)

Everybody Loves Somebody

(Dean Martin)

Papa Loves Mambo

(Perry Como)

Quando Quando Quando

(Michael Bublé)

The Way YOu Look Tonight

(Michael Bublé)

Smooth operator

(Sade)

Hallelujah

(Leonard Cohen)

All Of Me

(Michael Bublé)

All The Way

(Frank Sinatra)

Always On My Mind

(Michael Bublé)

Beautiful in my eyes

(Joshua Kadison)

Bésame Mucho

(Andrea Bocelli)

The Best is yet to come

(Frank Sinatra)

Beyond the sea

(Bobby Darrin)

Buona Sera

(Dean Martin)

Black and Gold

(Sam Sparrow)

Blue Eyes

(Elton John)

Brazil

(Frank Sinatra)

Brown Eyed Girl

(Van Morrison)

Bridge OverTroubled Water

(Sinon & Garfunkel)

Can You Feel the love tonight

(Elton John)

Candle in the wind

(Elton John)

Dream a little dream

(Michael Bublé)

Georgia

(Ray Charles)

Help Yourself

(Tom Jones)

Holding Back The Years

(Simpy Red)

Hollywood

(Michael Bublé)

Home

(Michael Bublé)

How Deep Is Your Love

(Beegees)

How Long Will I Love You

(Ellie Goulding)

How Sweet It Is

(Michael Bublé)

I Get A Kick Out Of You

(Frank Sinatra)

I Heard It Through The Grapevine

(Karen Souza)

I'll Be Seeing You

(Frank Sinatra)

I've Got The World On A String

(Frank Sinatra)

I've Got You Under My Skin

(Frank Sinatra)

If I Ruled The World

(Tony Bennet)

Ronan Keating

(If Tomorrow Never Comes)

In The Ghetto

(Elvis )

It's Impossible

(Perry Como)

Jessie

(Joshua Kadison)

Killing Me Softly

(The Fugees)

Kissing A Fool

(George Michael)

LOVE

(Nat King Cole )

Lady Is A Tramp

(Frank Sinatra)

Love Story

(Tony Bennet)

Mack The Knofe

(Bobby Darrin)

Mambo Italiano

(Dean Martin)

Mandy

(Barry Manilow)

Mas Que Nada

(Jorge Ben)

Me & Mrs Jones

(Billy Paul)

Moon River

(Frank Sinatra)

Moondance

(Van Morrison)

More

(Frank Sinatra)

My Girl

(Jon Peter Lewis)

New York, New York

(Frank Sinatra)

Night And Day

(Frank Sinatra)

On an Evening in Roma

(Dean Martin)

On The Beach

(Chris Rea)

One for my baby

(Frank Sinatra)

Sag es Laut

(Xavier Naidoo)

Save the last dance

(The Drifters)

Say you, say me

(Lionel Richie)

Shape of my heart

(Sting)

So Soll Es Bleiben

(Adel Tawil)

Something Stupid

(Frank Sinatra)

South Of The Border

(Frank Sinatra)

Smooth

(Santana)

Strangers In The Night

(Frank Sinatra)

Stuck on you

(Lionel Richie)

Summer WInd

(Frank Sinatra)

Suspicious Minds

(Elvis)

Sway

(Dean Martin)

Sweet Caroline

(Neid Diamond)

That's Amore

(Dean Martin)

These Arms Of Mine

(Otis Redding )

The Rose

(Westlife Version)

They Can't Take That Away From Me

(Frank Sinatra)

Things

(Frank Sinatra)

To Be Loved

(Michael Bublé)

Unforgettable

(Nat King Cole)

Volare

(Dean Martin)

Louis Armstrong

(What A Wonderful World)

When You Say Nothing At All

(Ronan Keating)

All night long

(Lionel Richie)

Never gonna give you up

(Rick Astley)

Ab in den Süden

(Buddy)

Abba Medley

(Abba)

Ai Se Eu Te Pego

(Michel Telo)

Anita

(Costa Cordalis)

Bailamos

(Enrique Iglesius)

Bei meiner Seele

(Xavier Naidoo)

Blame It On The Bossanova

(Eydie Gormé)

Bonfire Heart

(James Blunt)

Born To Be Alive

(Patrick Hernandez)

Brother Louie

(Modern talking )

Bye bye love

(The Everley Brothers)

Can't buy me love

(The Beatles)

Can't Get Enough Of YOur love

(Barry White)

Can't Take my eyes off of you

(Richie Vallie)

Candy

(Robbie Williams^)

Celebration

(koolio and the gang)

Club tropicana

(George Michael)

Colour me in

(Rea Garvey)

Copacabanna

(Barry Manilow)

Cowboy & Indianer

(Olaf Henning)

Crazy Little Thing Called Love

(Queen)

Crying at the discotheque

(Alcazar)

dancing on the ceiling

(Lionel Richie)

Dich zu lieben

(Roland Kaiser)

do it to me one more time

(Lionel Richie)

Don't gimme that

(The Bosshoss)

Don't talk just kiss

(Right said fred)

Du hast mich tausend mal belogen

(Andrea Berg)

ein bett im Kornfeld

(Jürgen drews)

Ein Stern, der deinen Namen trägt

(Nick P)

eine neue liebe ist wie ein neues Leben

(jürgen marcus)

Er gehört zu mir

(Marianne Rosenberg)

fiesta mexicana

(rex Gildo)

Gold

(Spandau Ballet)

Griechischer wein

(Udo Jürgens)

Heart to heart

(James Blunt)

Hello again

(Howard Carpindale)

Help Yourself

(Tome Jones)

Hollywood hills

(Sunrise Avenue)

hound dog

(elvis)

human

(the Killers)

i can't help falling in love with you

(Elvis)

I follow rivers

(Triggerfinger)

I love it when we do what we do

(Ronan Keating)

i will survive

(Gloria Gaynor)

I wonder why

(curtis stigers)

ich bau dir ein schloß

(Jürgen drews)

ich kenne nichts

(Xavier Naidoo)

ich war noch niemals in New York

(Udo Jürgens)

Ich will Immer Wieder

(Helene Fischer)

Is This The way to Amarillo

(Tony Christie)

Its now or never

(Elvis)

Its raining men

(the weather girls)

jailhouse rock

(Elvis)

La Bamba

(Richie Vallie)

Let me go

(Gary Barlow)

Let's Twist Again

(Chubby Checker)

Lieb mich ein letztes mal

(Roland Kaiser)

Livin La Vida loca

(ricky martin)

Living next door to Alice

(Smokie)

Love Is In the Air

(John Paul Young)

Mambo No.5

(Lou Bega)

Moskau

(Dschingus Kahn)

Moviestar

(Harpo)

Relight my fire

(Take That)

Rivers of Babylon

(koolio and the gang)

Rock DJ

(Robbie Williams)

Santa Maria

(Roland Kaiser)

Sex Bomb

(Tom Jones)

sexy sexy lover

(Modern talking)

tage wie diese

(Die toten hosen)

tanza samba mit mir

(tony holiday)

tonight (im loving you)

(Enrique Iglesius)

Troublemaker

(Olli Murs)

Too funky

(George Michael)

TV Makes the Superstar

(Modern talking)

Über Den Wolken

(reinhard Mey)

unchain my heart

(joe cocker)

vallerie

(amy winehouse)

viva l'amour

(Roland Kaiser)

Volare

(gypsy Kings)

wake me up

(Wham)

You to me are everything

(The Real Thing)

You're my heart you're my soul

(Modern Talking)

You're the First, the Last, My Everything

(Barry White)
Programm ansehen