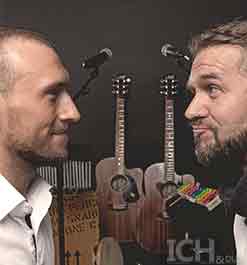 ICH und DU
Stadt:

Lüdenscheid
Preisspanne: ab 850 €
Antwortquote :

100%
Antwortzeit: 1-2 Stunden
Unsere Buchungen: 9
---
ICH & DU - Querbeet gute handmade Livemusik mit viel Spaß und flexibel einsetzbar.
Ob bei Hochzeiten, Firmenfeiern, Stadtfesten, Geburtstagen, Einweihungen, Weihnachtsfeiern, Messen, auf großen Bühnen, in der Gastronomie, im heimischen Wohnzimmer oder Open Air:
WIR SPIELEN ÜBERALL!!! EINZIGE BEDINGUNG: EINE STECKDOSE!!!

Unser umfangreiches Repertoire ist sehr bunt zusammengestellt und alles ist handmade!
Von James Brown über Earth Wind & Fire, Phil Collins, U2, Pink Floyd, Doobie Brothers, Sting, Peter Gabriel, Paul Simon bis hin zu Keziah Jones, Herbert Grönemeyer, Westernhagen, The Beatles, Sportfreunde Stiller, R.E.M., The Police, Bobby Hebb, Seal, Triggerfinder, Mike & the mechanics und Tim Bendzko, Genesis, Max Giesinger, Ed Sheeran, Mark Forster, Alle Farben, Kings of Leon, Jessy J... Hier ist für jeden was dabei!

Mit im Gepäck haben wir die nötige Licht- und Tontechnik bis 200 Personen.

Wir können leise, dezent im Background aber auch laut mit den Gästen, dem Publikum. Gerne erstellen wir ein individuelles Angebot. Für mehr Informationen (Videos, Setlist, Technik, PR...) einfach bei uns melden!

(Bilder von: Nils Wehner)
---
Bewertungen von ICH und DU
50. Geburtstag
-
November 18 2017
Ein großartiges Duo, das unsere Feier zu einem einzigartigen Ereignis gemacht hat. Sehr professionell, aber dabei persönlich und extrem nett. Musikalisch absolut spitze!!!! Die Kneipe hat gerockt! Wahnsinn!
Silberhochzeit
-
Juli 17 2017
Hervorragende Musiker und Stimmungsmacher, 100% zufriedene Gäste und wir natürlich auch, super.
Sehr Professionell, Spontan und nett
50. Geburtstag
-
Juni 23 2017
Sehr nette Künstler, die ihr Handwerk verstehen und wissen zu unterhalten!
Kontakt ICH und DU
Sehen Sie sich unser Video an
Unser Programm
80 Millionen

(Max Giesinger)

Nur noch kurz die Welt retten

(Tim Bendzko)

Still

(Jupiter Jones)

Land of confusion

(Genesis)

You and me

(Millow)

Loosing my religion

(R.E.M.)

So lonely

(The Police)

Clueso

(Chicago)

Another brick in the wall

(Pink Floyd)

Udo Lindenberg

(Cello)

Easy

(The Commodors)

Father and son

(Cat Stevens)

Get down on it

(Earth, wind and fire)

Get lucky

(Daft punk)

English man in New York

(Sting)

Every breath you take

(The Police)

Message in bottle

(The Police)

Hedonism

(Skunk Anansie)

Creep

(Radiohead)

Basket Case

(Green Day)

Wake me up when September ends

(Green Day)

Crying at the discotheque

(Alkazar)

Flash mich

(Mark Forster)

Hey Joe

(Jimi Hendrix)

Highway to hell

(ACDC)

Fly away

(Lenny Kravitz)

Hold back the river

(James Bay)

I can't dance

(Genesis)

I feel good

(James Brown)

Superstition

(Stevie Wonder)

I still haven't found

(U2)

I follow you

(Triggerfinger)

Thinking out loud

(Ed Sheeran)

If a song could get me you

(Marit Larsen)

In the air tonight

(Phil Collins)

Ironic

(Alanis Morisette)

Ich lebe

(Christina Stürmer)

I'm yours

(Jason Mraz)

I'm a believer

(The Monkees)

Junimond

(Rio Reiser)

Layla

(Eric Clapton)

Wild wolrd

(Cat Stevens)

Learning to fly

(Foo Fighters)

Let it be

(The Beatles)

Yesterday

(The Beatles)

Long train running

(Doobie Brothers)

Crazy

(Seal)

Love's devine

(Seal)

Mit 18

(Westernhagen)

Was soll das

(Grönemeyer)

No woman no cry

(Bob Marley)

Applaus Applaus

(Sportfreunde Stiller)

Kompliment

(Sportfreunde Stiller)

Narcotic

(Liquido)

One

(U2)

Over my shoulder

(Mike and the mechanics)

One of us

(Joanne Osborn)

Paint it black

(Rolling stones)

Price tag

(Jessie J)

Proud Mary

(Tina Turner)

Rolling in the deep

(Adele)

Rhythm is love

(Keziah Jones)

September

(Earth, wind and fire)

Seven nation army

(White Stripes)

Soulsbury hill

(Peter Gabriel)

Smells like teen spirit

(Nirvana)

Sleepin satellite

(Tasmin Archer)

Stars

(Simply Red)

Somthing got me started

(Simply Red)

Stop and stare

(One Republic)

Sunny

(Bobby Hebb)

Stumblin in

(Suzi Quatro)

Sweet home Alabama

(Lynyrd Skynyrd)

Tage wie diese

(Die Toten Hosen)

Auf uns

(Andreas Bourani)

The first cut is the deepest

(Cat Stevens)

The scientist

(Cold play)

The Letter

(The Box Tops)

This is the life

(Amy Macdonald)

To be with you

(Mr. Big)

Treasure

(Bruno Mars)

Under the bridge

(Red hot chilli peppers)

Weak

(Skunk Anansie)

What's up

(4 non blondes)

When you say naothing at all

(Ronan Keating)

Willenlos

(Westernhagen)

Wonderwall

(Oasis)

Westerland

(Die Ärzte)

At you side

(The Corrs)

Angels

(Robbie Williams)

bRAND NEW TOY

(Jeremy days)

Barbie girl

(Aqua)

Bridge over troubled water

(Simon and Garfunkel)

Dancing in the moonlight

(Toploader)

Dirty old town

(The Pogues)

Fields of gold

(Sting)

Knocking on heavens door

(Bob Dylan)

Mustang Sally

(Wilson Pickett)

Rosemary

(Lenny Kravitz)

Tears in heaven

(Eric Clapton)

Tic Toc

(Cultured Pearls)

Weather with you

(Crowded house)

Highway to hell

(ACDC)

Pearl Jam

(Alive)

Sunrise Avenue

(Hollywood Hills)

Hollywood Hills

(Sunrise Avenue)
Programm ansehen